The fourth meeting of the Global Initiative for Children's Surgery has just been announced.  Full details to follow.
The third meeting of GICS was held in Vellore, India 12-13 January 2018, under the fine leadership of Vrisha Madhuri and her colleagues.  The meeting was attended by 110 delegates (two-thirds from LMICs) from 33 countries.
Read this account by GICS member Jack Mulu, a pediatric surgeon from Papua New Guinea.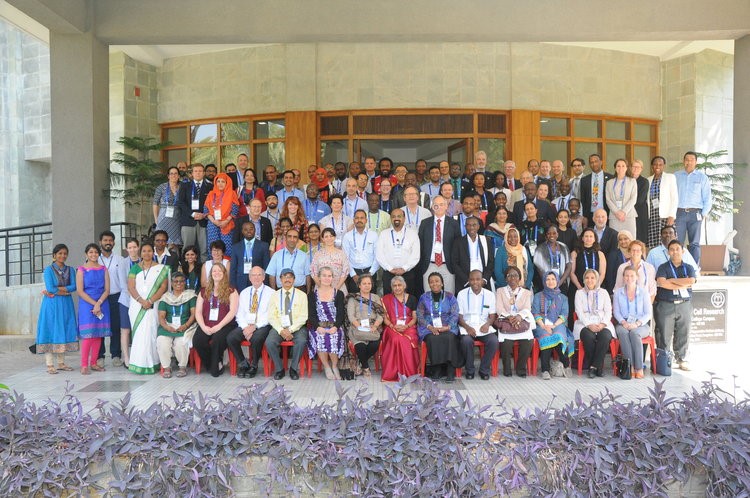 GICS' second meeting in Washington DC built on the outputs of the inaugural London meeting. The meeting started with a review of GICS's preceding work, including necessities and priorities for children's surgery drawn from pre-conference needs assessments. Concrete examples of barriers to care were delineated through a series of country and specialty-specific presentations from delegates working in a variety of low-resource settings. Opportunities and strategies to learn from, and partner with, other global health organizations and initiatives were discussed, and video messages from leaders at the World Health Organization and the International Committee of the Red Cross were presented.
The true focus of the meeting centered around defining the optimal delivery of resources for children's surgery across all levels of care, and developing action plans to improve children's surgery across all levels of the health system. The meeting wrapped up with a discussion regarding how to continue our work improving children's surgical care for children.
The inaugural meeting of GICS – Global Initiative for Children's Surgery – was held in London on May 27-28, 2016 at the Royal College of Surgeons. This newly formed initiative aims to improve surgical care for children in the world's lowest resource settings.
One-third of the global burden of disease – the combined impact of death and disability from all diseases around the world – includes conditions that require surgery.  However, five billion people do not have access to safe, affordable surgical and aesthetic care when needed. This lack of access results in millions of unnecessary deaths and disabilities every year.
Inability to access surgical care is particularly critical for children, as they comprise nearly half of the population in the least developed regions. The majority of the world's children cannot access the surgical treatment they need if they are born with a routine correctable malformation, if they are injured, have a common abdominal emergency, or develop a tumor. As a result, there are profound global disparities in care of these children between high and lower income parts of the world .
GICS plans improve surgical care for children across the globe by convening a wide range of stakeholders: surgical providers, regional and international organizations, surgical charities, child health advocates, and policy experts for two initial meetings in 2016. The inaugural GICS meeting in London gathered 27 delegates from eighteen low- and middle-income countries to assess the current state of surgical care for children and prioritize needs for improvement. During the second meeting, to be held in Washington DC in October, participants will develop an action plan to bring about equitable global surgical care for all children.
WASHINGTON DC 2016 EVENT SPONSORS
We are grateful to the following organizations and individuals for their generous support in assisting our colleagues from low and middle-income countries to attend GICS:
American Pediatric Surgical Association
British Association of Paediatric Surgeons
Canadian Association Pediatric Surgeons
Children's National Medical Center
International Society for Pediatric Neurosurgery
Pacific Association of Pediatric Surgeons
Shriners Hospitals of Northern California
Society of Pediatric Anesthesia
Everyone who gave via GoFundMe
THANK YOU!
To learn more about this initiative or to get involved, please contact gics@baps.org.uk.